Some of my favorite posts to read are people's favorite products posts. I am pretty much a minimalist, meaning if I don't use it regularly, I try to not have it, but there are some things that no matter what...I think are worth the money and I really, really use and like them.
First up:
Lansinoh Nipple Cream
. Never use it on my nipples, but it is
THE WORLD'S BEST LIP BALM!!!!
It's all natural and created for dry, cracked skin...a.k.a. lips in the winter! I seriously have a tiny panic and get so, so sad if I realize I left them at home. That's right. I have 3.
One by my bed.
In Ruby's bag.
And I think I've lost the other one.
I LOVE THIS LIP BALM. I have some on now.
And for some reason when I'm pregnant my lips get crazy dry and chapped so this is my best friend these days.
If you've ever been to our house, you have seen several of these Cetaphil Lotion bottles strategically placed. My bedside table, Ruby's diaper changing station, our bathroom cabinet, etc. I LOVE this lotion. We all know I am very picky about what I put on my skin a.k.a. into my bloodstream, and I just like that this is unscented (I HATE SCENTED THINGS!!!) and the furthest thing from oily, not caky, but extremely moisturizing.
Too many lotions make you feel nice and soft for about 15 minutes and soon your skin is dry and needing more.
Not my precious Cetaphil! This stuff is awesome. I love it.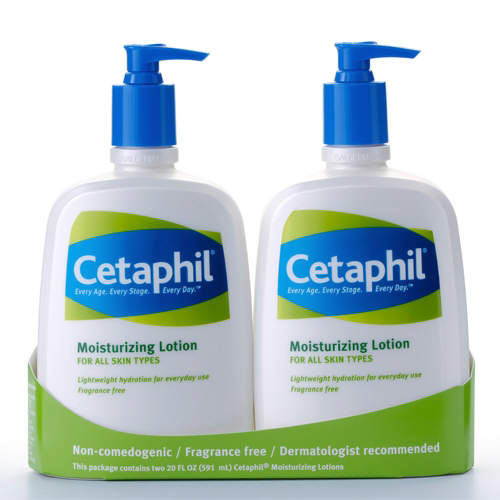 I have tried other mascaras, but I always come back to my favorite and most faithful: Maybelline Full N' Soft in Very Black. Us blondes look like albinos with no mascara on so this is a product I always need and feel better wearing.
When I stopped working as much to stay at home, I looked for every possibility to save money wherever I could. So I bought cheap Walmart foundation. I think it was the wrong color or something? So I bought a different cheap Walmart kind...my face broke out. And I realized I could keep buying crap that adds up to the same price as the good stuff, or just buy the good stuff and make it last as long as possible.
This is the good stuff.
Bare Minerals Foundation.
I love what it's made of.
I never get oily or breakout from it.
I love that if I don't wash it off one night, no problem.
I add a little water to the lid and make it more like a cream/liquid foundation and it is so smooth and beautiful.
LOVE this product, just wish it would last longer.
I have the privilege of coloring my hair whenever I darn well please. This is seriously so awesome and I don't take it for granted. I feel so bad that my clients have to budget to PAY to get their hair done every 6-8 weeks! If I wasnt' a hairstylist I would have some *interesting* hair because there is no way we could justify $90 every month and a half or so to make it look good.
Anyway...all that being said...anyone that colors their hair SHOULD INVEST IN A GOOD CONDITIONER.
Pureology Nanoworks is the Lexus of conditioners, and since I drive a Nissan Murano, I just settle for Matrix Sleek Look. It works great, I love it dearly, but I couldn't get a picture pulled up of it.
Moral of the story is a good conditioner is a must if you color your hair.
I have several goals in life, and one of them is to find the perfect, all natural, unscented deodorant that works. I have tried so, so many things. They work for a week, and then stop. But I don't give up! I cannot, will not, wear scented, caky, aluminum deodorant. Yuck.
If I were Santa, I would deliver one of these to every boy and girl.
Everybody needs a teasing comb. Flat hair means you look sad and sick.
A little volume perks you up and keeps you alive and happy looking!
It's true...
And Sensodyne toothpaste is the last thing I could think of that I just straight up need and love.
I have had 7 root canals, and like a billion fillings. If I THINK of sugar my teeth hurt. (and yet...sometimes I battle through the adversity and just suffer for the sake of the deliciousness. Dumb. I'm learning.)
Anyways, my dentist told me about this and it has been my pal ever since. Has made it totally doable to do hots and colds when before it would hurt like the dickens. It strengthens your enamel and coats it or something along those lines.
I remember riding my bike one time and the wind hitting my teeth if I would laugh or smile would sting. I know! Awful! Don't worry, we've already prayed over all our kid's that they will get their fathers "I've only had one cavity my whole life" set of chompas.
Anyway, love this stuff, and I will never go back to the other stuff. Again...worth the money.
Although I would NEVER buy the whitening kind because whitening toothpastes are AWFUL for your teeth. They strip the top layer of enamel off, revealing, yes...white, but totally weakening your teeth and making them so susceptible to sugar, decay, more stains, etc.
So that's it! Those are my must-haves.
Are any of mine the same as yours?!