I have only been a Mom for 8 1/2 months (not including the 9 she spent inside me of course) but I have found in that time some things that I love and will use with all my babies, and some things that I found to be unnecessary.
Love:
The
Moby Wrap
. My all-time absolute MUST HAVE, favorite product of all. Can I make it any more clear?? They look weird and intimidating if you've never used one, but the moment you do...you'll fall in love. Not only will you fall in love...your sweet little baby will. Even if Ruby was not tired, if I put her in this as an infant she was asleep within seconds. They love the warmth of being next to their Momma, they are right on your chest so they hear your heartbeat like they did in the womb, and they go everywhere with you, feeling the sway of your walk, the sound of your voice...it's just all so good.
The
Bumbo
. We used this all the time. Perfect for them to feel big sitting up, and for you to have a break from holding them all the time. I used to set Ruby up on the counter and she'd watch me cook everyday. Because babies like to up with you, not laying on the floor while all the action is counter-top level and above. You have to be careful, though, because once they get big and strong enough (like she is now) they can work themselves out of it, so no counter sitting!! But for when they are too little to sit on their own, this is great.
Some sort of
Jumper
. We got this one as a gift from my sweet Nanny, and it's a little big. If I had to choose I'd do something smaller like a Johnny Jump Up, but this also has more things on the side for her to play with. She went through a phase where she LOVED this thing. It worked her leg muscles and she loved showing off. If you think it gave me some time to get stuff done while she was in it you're wrong... She ONLY liked it if you were right there, sitting across from her making sounds like you were impressed by her.
Soft baby clothes
. I will never ever ever dress my newborns in jeans, shoes, corduroy vests, beaded shirts, etc. They just came from the womb, the safest, most natural place on earth. Our world is toxic enough for them to come out to, I don't need to dress them like a teenager when they are weeks old. (Can you tell this is one of my pet peeves?)
Hate to admit it, but
pacifiers
. We're being very cautious to not get her addicted to it (for instance, we don't shove it in her mouth anytime she fusses a bit) and we only use it for sleeping or in the car, not regular daytime play. But it soothes her and well, pacifies her, and I'd want it if I were her. So we don't leave the house without one, and I assume all my babies will like these.
Cloth diapers
. We all know how I feel about them. Got introduced to them by my
sister
, and have been hooked ever since. I love cloth diapering. Everything about it. It's better in every single sense of the matter so why the heck not do it? This is another one of those "looks weird and intimidating" at first type of things, but once you try it for yourself you have one of those light bulb moments like "why have I not been doing this all along?!".
Now for things I thought I needed but could have done without:
The
Boppy
. I never really used it for breastfeeding. It almost made nursing her more awkward and uncomfortable. I preferred holding her myself and we fit together like a puzzle, instead of this big bulky round thing in the way.
***Post Edit: After writing this today I thought I'd try the Boppy again while nursing Ruby to sleep becaue I hadn't in forever. I was very wrong. I think I love it. Now that she's bigger and heavier it really takes a lot of the weight off and makes my posture so much better. So...I was wrong.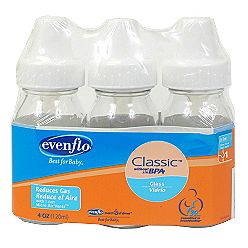 Bottles
. I stay home and breastfeed her...I'm not sure why I registered for (and got) so many bottles? Never used any of them but one, and that's on the
rare
occasion somebody watches her for a long period of time.
Johnson & Johnson Baby Care products. Have tons of them and never ever used them. I'm not going to put all that crap on my precious newborn! I won't even put it on Ruby now. Perfumes and dyes and chemicals to put on your baby's skin (which is soaked into their bloodstream) just so they can "smell like a baby"? Leave your babies' skin alone and THAT'S what smelling like a baby is. And it's waaay more precious than what J&J can come up with, I promise.
Anyway, that's my little two cents.
What are some of
your
Baby Must-Haves?